The PBX Communications Solution for the New World Reality.
Has the pandemic exposed your business communications? Can your employees work productively from home using voice apps and web conferencing? Conduct remote business meetings without requiring apps? Service customer requests via website live chat? Future proof your business during the lockdown and beyond with 3CX PBX:
Easy to manage PBX built for teleworking
App Free Web / Video Conferencing
Stay open safely with Website Live Chat
Use office extensions anywhere with the Smartphone apps
Run 3CX on-premise or in the cloud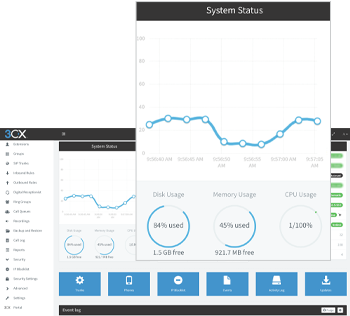 Office Without Limits – iOS & Android Apps
Website Live Chat & Talk
App-Free Web Conferencing
Slash your Phone Bill & Communications Costs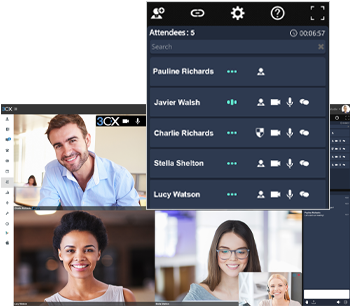 On-Premise: VM, Server or Appliance
In Power Cloud: Ox2Net, Amazon
Self-installation & Management
Unified Communications: Status, Chat, Click to call
Say goodbye to plug-ins with WebRTC
WebRTC technology enables video and voice communications to take place through your web browser for the ultimate collaboration tool. Participants can now seamlessly join meetings without the need to download any additional plug-ins or web conferencing software.
Schedule a video conference on the spot, or elevate an ongoing call

One-click video conferencing

Individual WebRTC call link for each user
Web Conferencing for all – Unlimited Users, Low Price
Say goodbye to inconvenient and unprofessional account sharing, as well as hefty per month, per user subscriptions. Now anyone can create a web conference at any time using the 3CX Web Client for real-time communication and collaboration with your partners, clients and employees.
Unlimited users – No per user fees

Integrated FREE in 3CX Phone System

Launch meetings from the web portal, 3CX apps, or Outlook
Take Control of Your Phone System – in the Cloud or On-Premise
Choosing a phone system for your business requires careful consideration. You want it to serve your business well, now and into the future. Telephony has evolved to encompass Unified Communications requiring a communication system to include advanced features such as call handling, conference calling, voicemail and more. Your telephone system must be able to scale with your business' growth, without breaking the bank in the process.
3CX is an open-platform, VoIP phone system that works with popular IP Phones and SIP trunks whether on-premise or in the cloud. Simple, affordable and flexible, 3CX eliminates the cost and management headaches of outdated, traditional phone systems or the limitations of shared cloud PBXs.
The Most Powerful Software. Say hello to 3CX.
Innovation in communication
With web conferencing you can hold live meetings, conferencing, presentations and training, online, via TCP/IP connections. Connecting to the conference is simply done by telephone or by making use of a computer's speakers and microphone through a VoIP connection. Web conferencing can transform the way you communicate and collaborate within your company and enables you to offer next-level customer support.
3CX's WebRTC-based web conferencing feature is an easy-to-use solution that is included in all editions of 3CX for free for up to 250 participants.
Open Platform – Don't get locked in
3CX does not tie into particular SIP Trunks, phones or hosters. With 3CX, you stays in control of your system and data.
It's all about freedom of choice!
Choose & Control your own phone numbers.
Choose your own SIP Trunk and save.
Choose your own cloud provider.
Choose your own hardware.
Choose On-Premise or Cloud.
Easy to Deploy – Install anywhere
Run 3CX On-premise or in the Cloud – whatever makes most sense for you. Importantly, we can run 3CX for you in a cloud of your choice such as Ox2Net, Google, Azure or Amazon. Larger companies might want to manage it themselves in which case it's your choice.
3CX's easy and quick deployment and simple day to day management . Not only does 3CX make running a PBX easy in terms of upgrades, security and scalability, but its management interface makes these tasks and the addition of new extensions a walk in the park. 3CX's zero admin will be a time, and therefore a cost, saver for you and your company.
Easily Add & Manage Extensions.

Phone configuration and firmwares are tested by Ox2Net.

3CX can manage bundled OS as well.

3CX Updates and Upgrades can be deployed automatically.
Mobility – Work from Anywhere
3CX has the full range of features that modern businesses require today. Integrated video conferencing at no charge, Mobility Apps for iOS, Android, Windows Client and modern web client will deliver tangible productivity gains for your customers.
Modern Android and iOS apps
Web and Windows Communications Client
Corporate Chat
Browser based video conferencing for all users
All at no extra charge
Advanced Customer Service functions
In today's competitive market it's important to never miss that call. 3CX includes advanced call centre features previously only available to enterprise customers. Calls can be linked to customer records before the agent takes the call. 3CX integrates with the largest number of CRM and Helpdesk packages.
Tried and Tested
3CX is a tried and tested solution. With thousands of businesses using 3CX globally the numbers talk for themselves.
Fanvil X7 IP Phone HD Video Call With Camera – Bluetooth & WiFi
Fanvil

X7C IP Phone 5-inch Screen HD Video – Bluetooth & WiFi – Support EHS Headset For Business or Home
Fanvil X210 High-end Enterprise IP Phone – Phone HD Video Call – IP Camera/SIP Video 
Available, get it now online!
Sed non mauris vitae erat consequat bibendum.